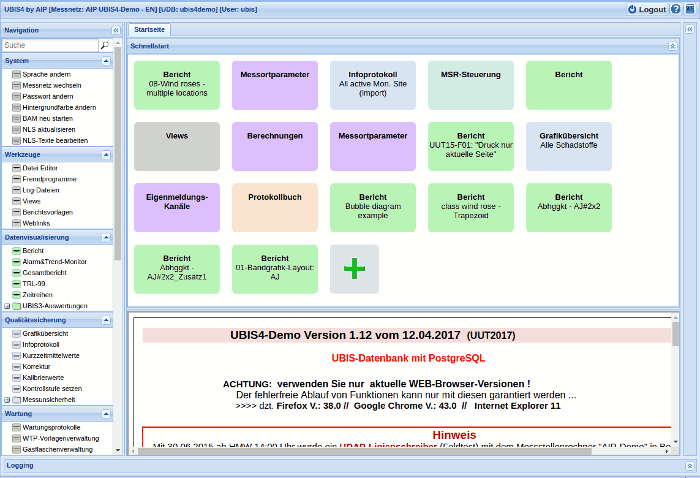 Our offer
Please choose...
pre-configured servers (plug-and-play)
VirtualBox image
software-as-a-service
No matter whether you want to run your own servers or use UBIS4 on our servers, we always have the matching offer for you.
Investment Protection
based on serveral open-source components
source code escrow available
participation in the UBIS-User-Club (UUC)
ongoing further development and maintenance
online support
national language support (NLS)
Range of Functions
UBIS4 is specialized for monitoring network centres in the environmental protection sector and offers a unique range of functions:
time-controlled data request from the monitoring stations
automatic data validation
manual and automatic data correction and elimination
evaluation of the analyzers' automatic function checks
comprehensive reporting
trend monitor
powerful calculation module for complex aggregations
automatic periodical report generation
remote control and remote configuration of aquisition and monitoring systems
automatic notification in case of network problems
complete administration of analyzers and monitoring stations
administration of maintenance dutys, test gas bottles etc.
creation of calibration certificates
logging of all relevant activities
automatic limit value surveilance and alerting
And much more. Request an account for our
UBIS4 demo system
today and experience the power of UBIS4!
State-of-the-art Technology
browser based user interface requires no client software installation
OpenSource database system PostgreSQL - no expensive database software licenses necessary
option to use the Oracle RDBMS (we recommend PostgreSQL, though)
High Availability
redundant database and application servers
permanent data replication with hot stand-by
ongoing self examination and notification
Contact
Ambient Information Processing GmbH
Grundsteingasse 40 Top 19
A-1160 Wien

Tel. +43 (1) 408 35 57
Email postbox@a-i-p.com