Perfect cooperation with UBIS4
The main tasks of every aquisition and monitoring system are:
collect data from analyzers (analog, serial or network)
calculate average values (e.g. half hour average value) from single readings
provide the average values for the centre
control the automatic function checks of the analyzers
UBIS4 works with aquisition and monitoring systems of several vendors, but only the combination with an IOX provides the maximum of functions:
remote configuration e.g. when replacing analyzers
event notifications e.g. when limit values are exceeded
display of current values
interface monitor
setting of control words from the centre
19" IOX
The 19" IOX offers a maximum of interfaces and is suitable for assembly in a 19" rack.
Compared to the Micro-IOX it offers a front display (optional), more interfaces and space for UDAP integration.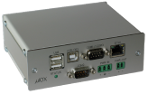 Micro-IOX
Smaller and more affordable than the 19" IOX, the Micro-IOX is still suitable for many use cases. Like its bigger brother, the Micro-IOX also cooperates perfectly with UBIS4.
Download data sheet
About the IOX
The IOX ("IO-Expander") was developed by company GEMI; since 2017 company Horiba produces it. AIP has always worked together with the vendor to make sure that the IOX provides all the features required by UBIS users. Therefore, the IOX provided by AIP has a "AIP by Horiba" front plate.
Please find more technical information about the IOX at
Horiba's product page
.
Contact
Ambient Information Processing GmbH
Grundsteingasse 40 Top 19
A-1160 Wien

Tel. +43 (1) 408 35 57
Email postbox@a-i-p.com